There is no better way to find out about Astri – and the way she teaches – than to read what her students say. So within these pages you will find plenty of their comments. Chances are that you will recognise yourself and your own situation and requirements!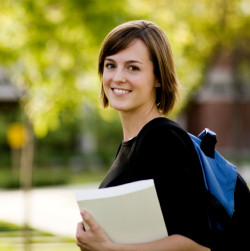 Ruth – met and married a Norwegian in Australia and wanted to learn the language before settling in Norway:
"After only half a year, I have been able to grasp the Norwegian language at a good level and I am able to speak, read and write with confidence due to Astri's dedication and persistence. The weekly lessons, along with the take home exercises have enabled me to not only understand the language, but also appreciate it as a culture. Astri has made all lessons enjoyable, is very patient and has a genuine interest in your personal progress and development. The teaching approach is open and flexible and I don't think I could have had a better teacher!" – R.C.H.
Professor of German at one of Sydney's leading universities:
"I am particularly impressed with Astri's knowledge of grammar and vocabulary of both the Norwegian and English language which enables her to explain complex concepts clearly and efficiently." – C.E.
Australian grandmother wanting to be able to communicate with her son's Norwegian family:
"Astri has a wonderful ability to structure her lessons in a simple basic way. Her philosophy was to give me the building blocks of the language so that I could have a comprehension of how the language was structured and also to understand what I was saying and hearing." – C.L.
(Carol also learnt to sing children's songs in Norwegian…)
Anna had tried learning using teach-yourself-books with not much success:
"Astri is a highly dedicated and skilled teacher, who puts much thought and preparation into each lesson. Every lesson is always interesting and challenging, and I enjoy Astri's enthusiasm and sense of humour." – A.W.
Charmaine went to Norway to complete her degree at Oslo University:
"I have been lucky enough to learn Norwegian with Astri before moving to Oslo, where I am taking Norwegian classes. I have been surprised that even though my fellow classmates have lived and worked in Norway for years and have taken 6-hour weekly classes over the past 18 months, my grasp of grammar and pronunciation is generally far superior. Astri's focus on pronunciation and grammar has resulted in me being understood, even if I cannot always find the words I need…" – C.C.
Paul – planning to live and work in Norway upon completion of his university studies:
"Astri always conducts herself in a friendly and professional manner, utilising the limited time available in each class. Exercises and tasks undertaken encompass written and oral communication, including conversation practise and written grammar. I have been particularly impressed with the format of Astri's written exercises as each subject is broken up into easy to follow chapters and is introduced clearly and succinctly." – P.D.
A medical doctor in his 60s, hoping to practise in Norway:
"… Astri's knowledge of English and Norwegian society and history enables her to give a fullness to her teaching not normally found." – B.D.A.
Self-employed business-woman wanting to run her business from Norway. Having no prior knowledge of the language, she was keen to learn it thoroughly and correctly right from the start:
"…It was certainly the best way of learning the language that I can imagine. The lessons were one-on-one and the teaching method completely suited my need to understand the structure of the language and become familiar with the grammar and the laws of the language first, before actually attempting to use the language much. As an adult, I have a problem with just accepting the phraseology and learning how to communicate in specific situations without always understanding the grammatical concept of what is being said, which is a very common way of teaching languages and a typical problem with many textbooks. Astri made sure that the Norwegian language I learned from her was of a high standard and grammatically correct, which I also appreciated. I find that the current text books are often lacking that." – A.T.H.
Someone wanting to go to Norway to visit distant relatives:
"I began weekly lessons as a complete beginner at the age of 55. Astri's enthusiasm and encouragement have given me great confidence in my ability and I look forward to learning more each week." – V.W.